Singapore Polytechnic (SP) has inked Memoranda of Understanding (MoUs) with three prominent universities in Southeast Asia to launch the "Temasek Foundation – Singapore Polytechnic Design Thinking and Innovation in Universities Programme in Southeast Asia" at the Design Thinking & User Experience (DT|UX) Summit 2022. Funded by Temasek Foundation, the three-year programme will be delivered by a consortium between SP and three of its long-term partners – Ateneo de Manila University in the Philippines, Bina Nusantara University (BINUS University) in Indonesia, and King Mongkut's Institute of Technology Ladkrabang in Thailand. Up to 150 faculty members across the three regional universities will benefit from this programme partnership, through participation at the Summit and follow-up workshops.
More Opportunities for Graduates to Enhance Human-Centred Design and Innovation Skills
The consortium will work together to promote cross-border exchanges and build up design thinking capabilities to accelerate innovations in the region and beyond. To do this, the partners will collaborate to enhance their capabilities in teaching and develop design thinking and innovation methodology in their university programmes across the different disciplines. Project collaborations between student and staff projects across the consortium partners will also provide project groups with access to each partner's resources and knowledge. This will be invaluable in areas such as information technology and engineering, where design thinking is crucial in developing solutions to solve various complex problems, especially more so with a global issue such as the COVID-19 pandemic. The partnership also offers SP the opportunity to extend the capability development of design thinking beyond Singapore, opening up the borders of learning and knowledge exchange, and further strengthening Southeast Asia's position as a leader in innovation.
Mr Lim Hock Chuan, Head, Programmes, Temasek Foundation, said, "Design thinking has many practical applications touching on various aspects of our lives. Educators want to use this powerful tool to help students find solutions with creativity and thereby better prepare them for real-world situations where there are often no textbook answers. We hope that this programme can serve as a platform for Singapore and regional educators to collaborate on ways to better develop teaching methodologies and curriculum and ultimately improve the design of our human-centred experiences."
DT|UX Summit 2022 Marks A Few Firsts for SP
This year marks the first time that SP has collaborated with the DesignSingapore Council. The DT|UX Summit 2022, supported by Temasek Foundation, is now a community programme of the Singapore Design Week 2022. SP has brought together a panel of speakers in Singapore comprising industry leaders in design thinking and innovation to share their insights with the attendees at the Summit. Being part of the Singapore Design Week, the Summit allows SP to reach a bigger audience to propagate the concepts of design thinking and how they can implement them in their organisations to tackle problems.
Ms Dawn Lim, Executive Director, DesignSingapore Council, said, "Design as a trans- and multi-disciplinary practice offers innovative solutions to many of the challenges in the present and future as organisations relook the way they operate in light of emerging trends like sustainability and technological acceleration. I'm therefore excited to share DesignSingapore Council's perspective on this topic at the upcoming DT|UX Summit 2022 - a community programme of Singapore Design Week 2022. It is also a great opportunity to gain new insights on the future of Singapore design, and I look forward to meaningful connections with other participants."
SP also welcomed back participants in person to the annual DT|UX Summit 2022 after two years of virtual runs. There were more than 450 participants present at the Summit while another 100 guests joined in virtually. The hybrid model offered physical interaction and networking, as well as facilitated the exchange of ideas among the attendees.
Mr Soh Wai Wah, Principal & Chief Executive Officer of SP, said, "As new technologies emerge, corporations across various sectors have largely embraced digitalisation to solve business challenges and maximise productivity and output. When paired strategically with good design thinking capabilities, businesses can look at their problems from different angles to discover better and more effective solutions. SP's partnership with Ateneo de Manila, Bina Nusantara University, and King Mongkut's Institute of Technology Ladkrabang will foster closer cooperation in the region, accelerate the propagation of good design thinking, and enable businesses to harness the value of design thinking in their processes."
Please refer to Annex A for quotes from SP's partners.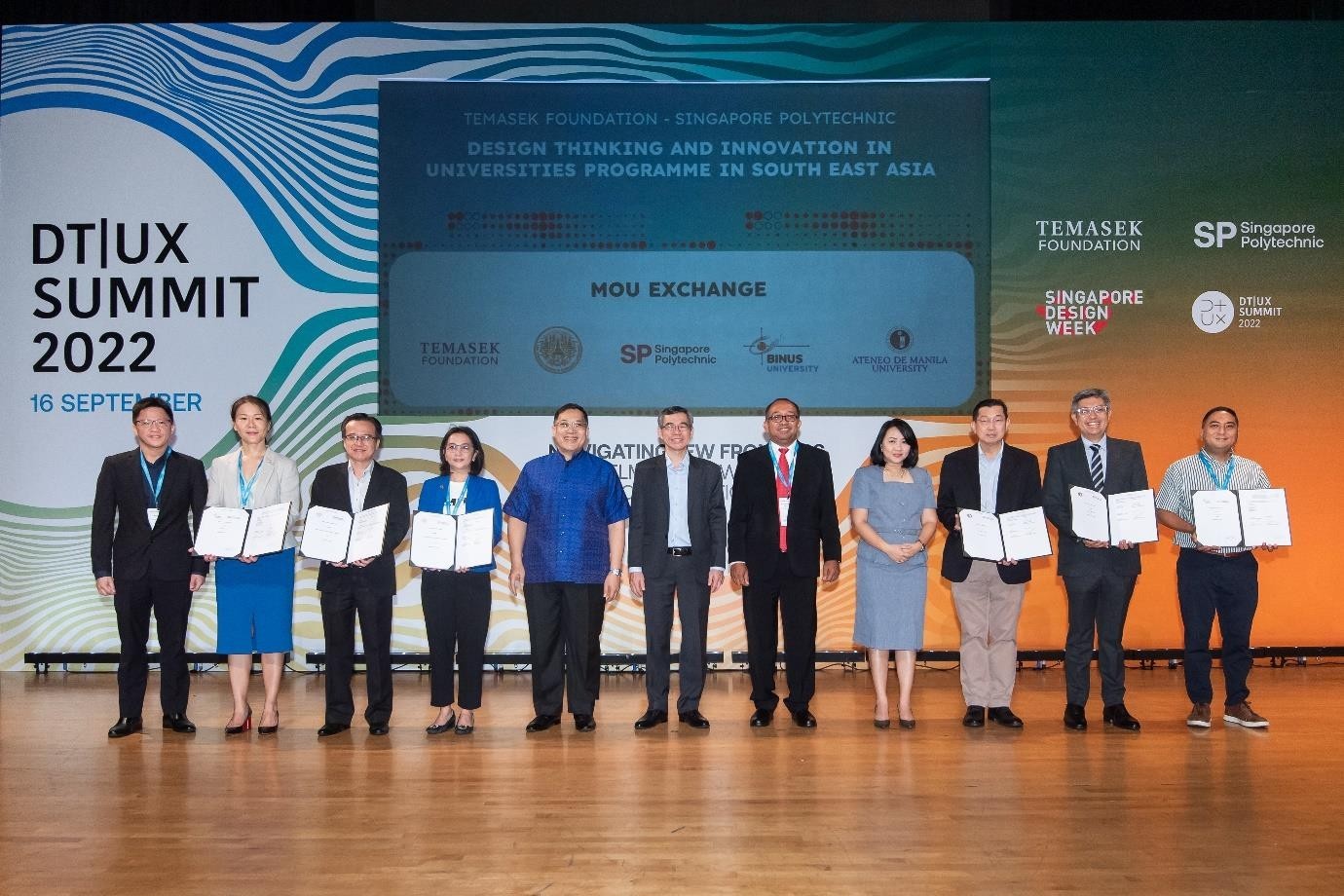 From left to right:
Mr Ryan Lau, Manager, Programmes, Temasek Foundation
Ms Tang Soo Yin, Centre Director, User Experience Centre, Singapore Polytechnic
Mr Toh Ser Khoon, Director, Industry & Partnerships, Singapore Polytechnic
Dr Antika Sawadri, Dean, School of Architecture, Art and Design, King Mongkut's Institute of Technology Ladkrabang
His Excellency Chutintorn Gongsakdi, Ambassador of Thailand to the Republic of Singapore
Mr Soh Wai Wah, Principal and CEO, Singapore Polytechnic
Mr I Gusti Agung Ketut Satrya Wibawa, Education & Cultural Attaché of the Indonesian Embassy
Ms Joyleen E Santos, First Secretary and Consul (Political and Public Diplomacy), Embassy of the Republic of the Philippines in Singapore
Mr Henry Tan, Deputy Principal (Administration), Singapore Polytechnic
Dr Roberto Galang, Dean, John Gokongwei School of Management, Ateneo de Manila University
Dr Ariono Margiono, Deputy Campus Director, Institutional Development & Collaboration, BINUS University Malang Campus