Synergy
As Temasek Foundation's outreach grows each year, so do our partnerships. Our network transcends backgrounds, beliefs and borders, connected by a shared purpose: to build a better world for everyone.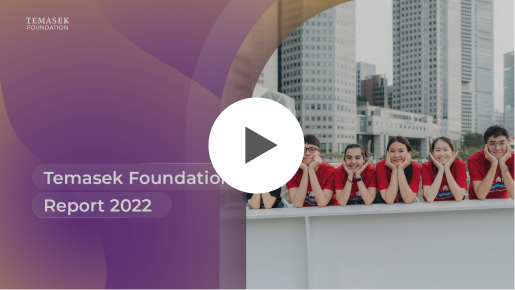 "We cannot do all things on our own. No one can. The world we live in is just too complex for that. So we must rely on like-minded partners to pool and share knowledge and resources; to learn and do good together more effectively than each of us can on our own."
Benny Lim, Chairman
OUR PILLARS OF WORK
We support a diverse range of programmes that uplift lives and communities in Singapore and beyond. Together with our partners and networks, our programmes strive towards achieving positive outcomes for individuals and communities now, and for generations to come.
Strengthen Social Resilience and Uplift Lives
Foster International Exchange and Enhance Capabilities
Advance Science for a Sustainable World
Key Highlights
Supporting programmes that build social resilience, promote international dialogue and partnerships, and catalyse research and innovation
1,357
Programmes
2M
Lives Touched
Across Singapore and Asia
S$923M
Total Funding Committed
Full Highlights
Programmes
1,357
Cumulative till FY21/22
Outreach
2M
lives touched across
Singapore and Asia
Cumulative till FY21/22
Additional outreach to
1.5M
households
In Singapore through our community initiatives
Funding committed
S$923M
Cumulative till FY21/22
Follow-on funding
Since 2016
55
sustainability innovations
funded from S$44M in grants attracting
S$424M
in follow-on funding