Without showbiz experience, 18-year-old Lin Jing produced a benefit concert in six months that featured nearly 300 youth performers.
"Friends of Exceptional Children", a 90-minute video pastiche of prior footage and specially recorded performances, was uploaded to YouTube on October 16 2021, to raise funds for MINDS, which serves children and adults with intellectual disabilities.

Lin Jing had gathered 17 volunteers – 14 from Ngee Ann Polytechnic, then three more from Republic Polytechnic – who managed the show's design, promotion, videography, and hosting. The final production included an interview with special education (SPED) educators and Novo Winds' Percussion ensemble.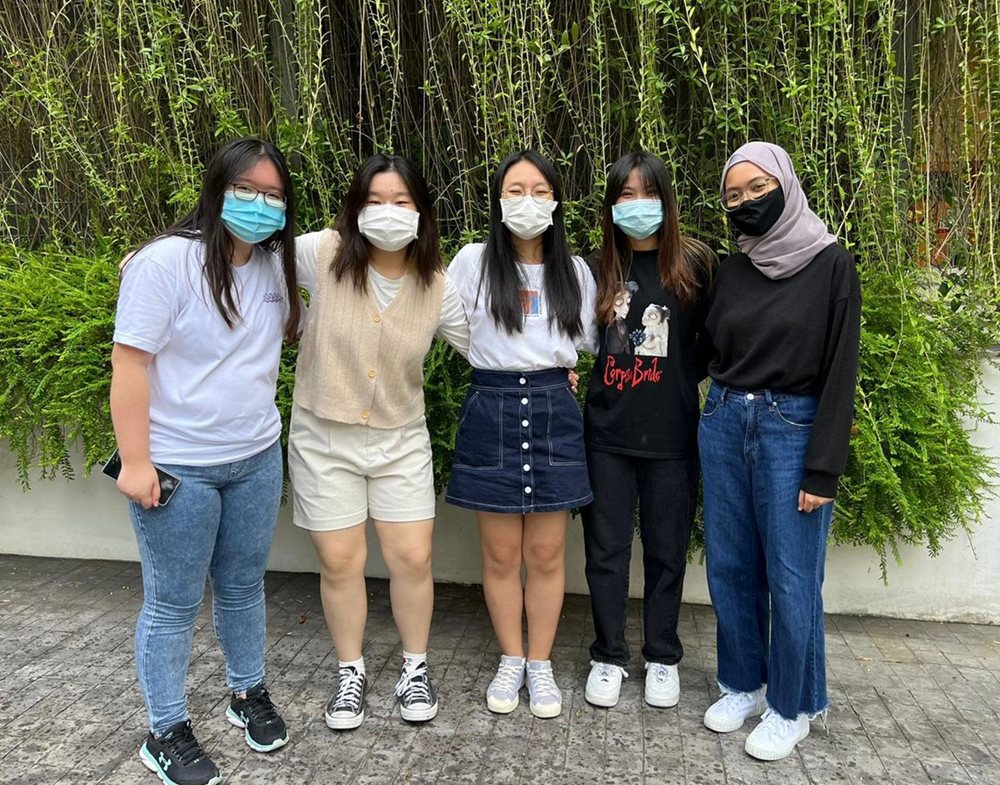 Lin Jing (third from left) and some of the volunteers involved in putting together the "Friends of Exceptional Children" virtual concert. (From left to right: Chong Bi Zhen, Yap Le Yi Letresa, Lin Jing, Lee Xin'En, Nurin Diyanah Bte Awaludin)

With the concert concluded and donations for it closed, Lin Jing is thankful: "I am proud of what we have achieved because it was quite a steep learning curve for us to pull off an event of such scale."
The third-year Chinese media and communication major from Ngee Ann Polytechnic had been discouraged when initially, "responses from the schools were not too forthcoming".
Realising that she would need help to make a difference, she had signed up to the Temasek Shophouse Conversations: Youth Call to Action programme – a collaboration with youth organisation Heartware Network – which invited young people to share ideas to address various societal challenges, including easing the impact of COVID-19.
Aligned with themes of the Temasek Shophouse Conversations and calls to action launched in 2021, the programme aims to empower young people with ideas for making an impact in the community.
Said Ms Jennifer Lewis, Head of Philanthropy Advocates at Temasek Foundation: "We were looking for youths to be pathfinders and to share their ideas on tackling pressing issues facing our societies. We wanted to empower them to be active stakeholders by providing a platform that champions their perspectives, aspirations and initiatives for a better future."
The collaboration with youth organisation Heartware Network (HWN) gave Lin Jing, and other successful applicants, access to ideation workshops and mentors from community leaders and companies.
Lin Jing chose to work with Mr Edward Hiew, 44, who has extensive social service experience, and administering the Community Development Welfare Fund at the Henderson and Dawson area. He suggested relevant partners, and encouraged her.
"She had no experience, no team members, no guaranteed commitment of funds raised, no facilities and no partner performing schools that were pre-committed for her project. Yet these youths are highly adaptable. They simply needed to be given the opportunity, be empowered and shown how something could be done."
Bringing together a diverse group of schools
The final product: A show with performers from five primary and secondary schools: Ai Tong School, Dunman High School, Bendemeer Primary School, St Anthony's Canossian Secondary and Victoria School.
Different school groups recorded nine new performances, including solos on the clarinet, french horn and flute. There was also a piano recital by Bendemeer Primary School, a concert band performance by St Anthony's Canossian Secondary School, along with a guest youth percussion performance by Novo Winds, a community band from Toa Payoh.
Larger scaled troupe performances were added in the form of past recordings, including the lion dance, drama and wushu segments.
Up to 200 students and teachers watched the video, and made donations. Proceeds will go towards funding training programmes in MINDS SPED schools that strengthen socio-emotional, communication and vocational skills, empowering children with intellectual disabilities to integrate into society and prepare for careers.
To raise awareness of their contributions, organisers also recorded interviews with MINDS SPED teachers about their work in special education. The segment was released on the project's Instagram page.
Said Mr Kelvin Koh, Chief Executive Officer of MINDS: "It was heartwarming to see volunteers, schools – as well as a non-profit community band – all come together to make the virtual event a success. Thank you again for the compassion, and for sharing in our mission."


The Temasek Shophouse Conversations is a series of conversations that seeks to galvanise and propel communities to take action for the common good in the region and the world. It will continue this year and the topic for the next edition is youth mental health. Head to https://www.philanthropyxchange.sg/tsc for more information.