Inventions intended for astronauts and soldiers could soon be used for patients at healthcare institutions here.

BIXEPS, a machine that emits magnetic fields to simulate the effects of exercise, is on its way to helping stroke patients under the National University Health System (NUHS) boost their strength and mobility.

Its creator, scientist Alfredo Franco-Obregon, had originally intended to help astronauts mitigate muscle loss as they explored outer space. But back on earth, his invention is being calibrated to address everyday health issues.

Users simply have to sit down and slip their limbs into the device for brief 10-minute sessions to see improvements, said Ivan Goh, the chief executive of QuantumTX, a company created to take the device to market.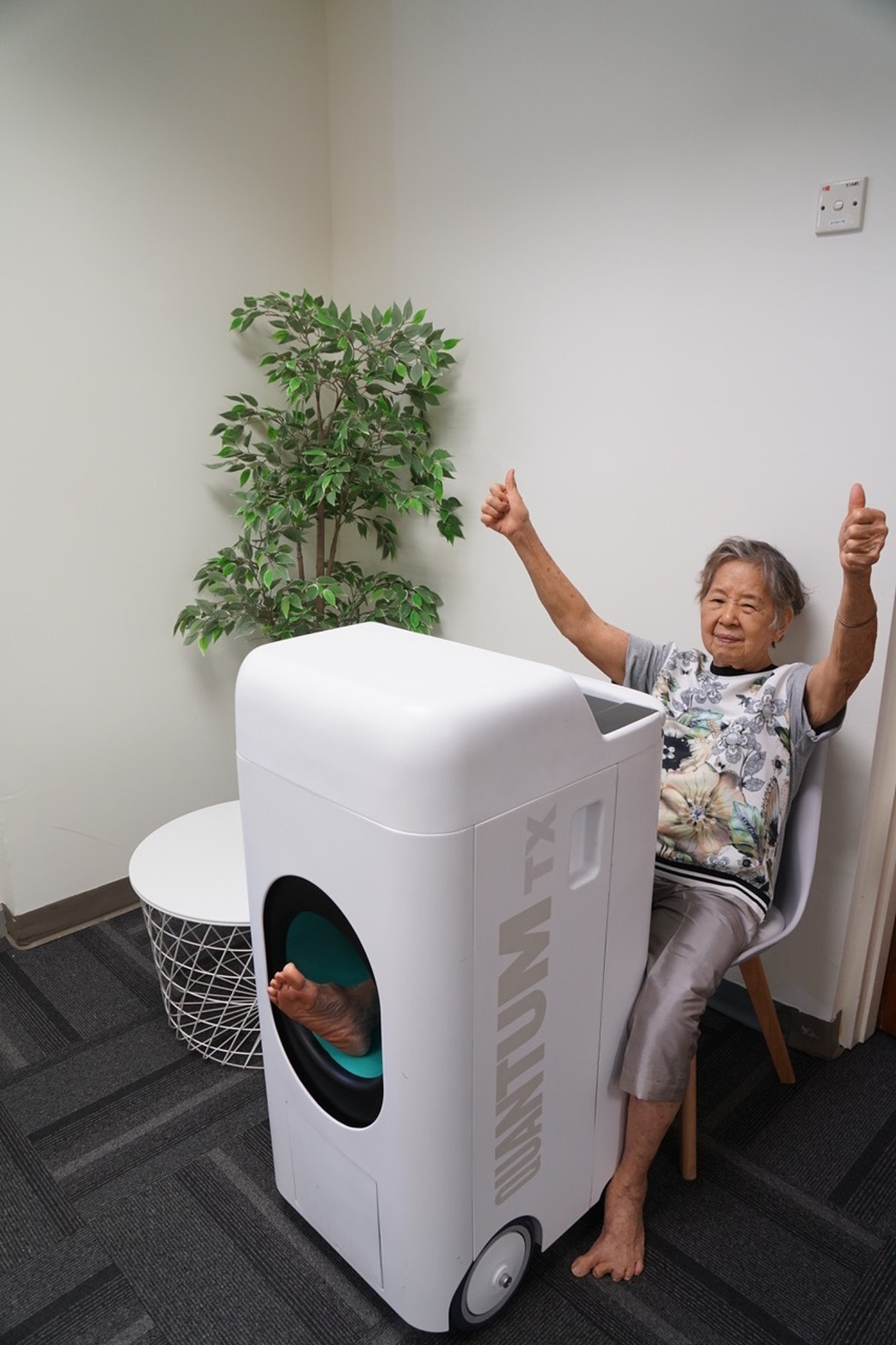 QuantumTX's BIXEPS device, which provides exercise benefits without physical strain, helped the start-up clinch a spot in the winners line-up at the Healthcare Innomatch 2022. (Photo credit: QuantumTX)
Associate Professor Franco-Obregon's creation is one of six near-market-ready innovations in this year's sterling line-up of winners from Healthcare InnoMatch — an annual med-tech challenge by the Centre for Healthcare Innovation.

The initiative supported by Temasek Foundation is designed to help drive the implementation of tech in the areas of preventive health, early intervention, and community care. It provides a sandbox environment for innovators to demonstrate the proof-of-value of their solutions in trials where they can be accessed by clinicians and patients. This year's edition also has the support of the Ministry of Health (MOH).
The Healthcare Innomatch 2022 was held in September 2022 to a live audience. Eight finalists pitched their innovations to a panel of judges which comprised top leaders from the three national healthcare clusters, the Ministry of Health, Temasek Foundation and Integrated Health Information Systems.
A total of $2.4 million has been awarded for the six to conduct product trials at all three of Singapore's public healthcare clusters – the National Healthcare Group, National University Health System and Singapore Health Services – for possible adoption and scaling by healthcare institutions.

NuCalm, which was originally developed to help people with post-traumatic stress disorder and substance abuse, is another winner. It could soon be deployed to ease the pre-surgery jitters of patients at Sengkang General Hospital.
Users simply have to don eye masks, headphones streaming neuroacoustic music, and a stick-on biosignal processing disc on their left wrists. They are typically lulled into a natural state of relaxation within minutes.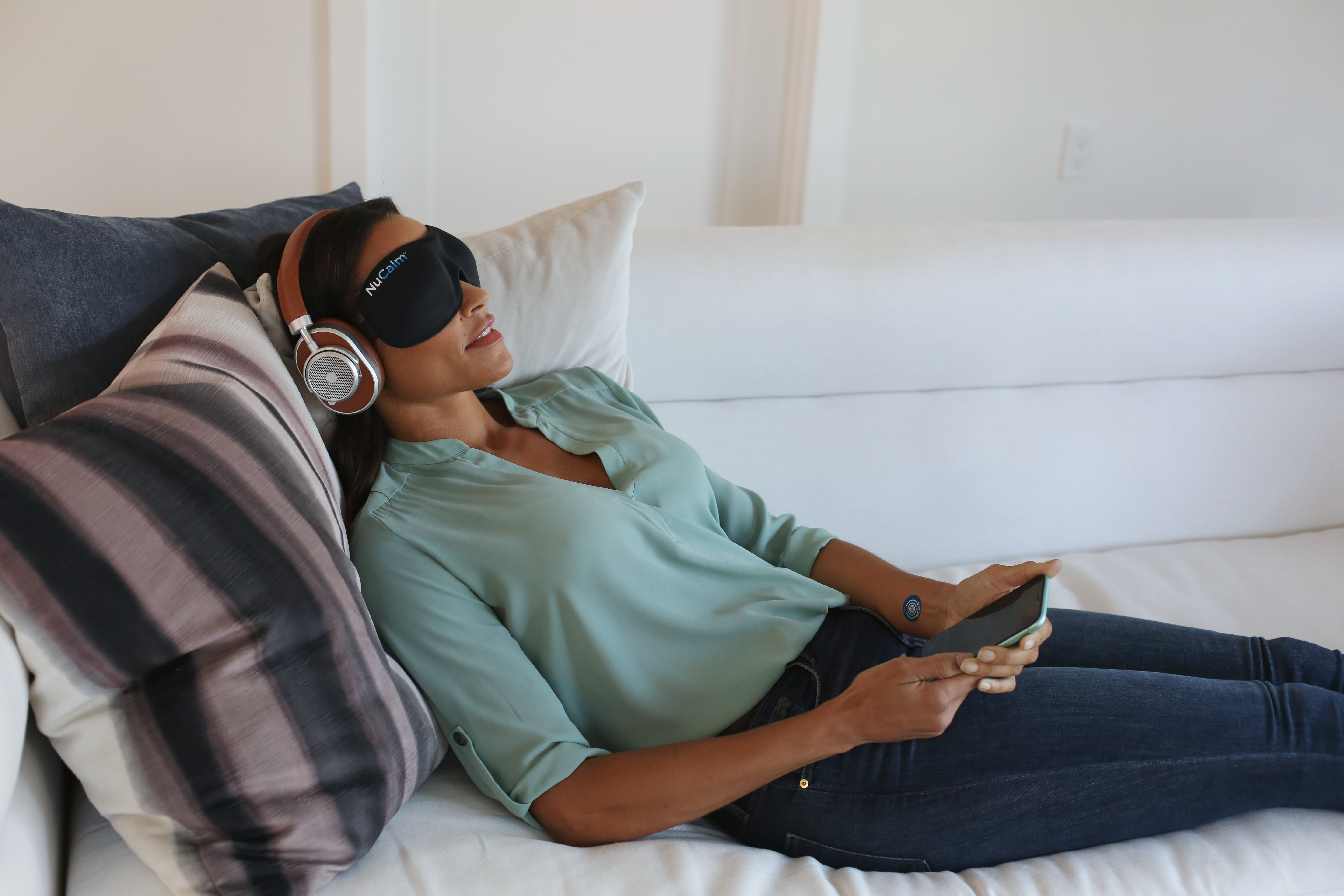 NuCalm is clinically proven to naturally relax the brain and body within minutes, without drugs. (Photo credit: NuCalm)
Sengkang General Hospital's Dr Aaron Lee, a senior consultant in the department of anaesthesiology, said surgery is a major life event that tends to stress out patients. This anxiety can cause spikes in blood pressure, which in turn increases surgery risks.
"Generally, we accept that most patients will be anxious and we appropriately manage them. We can give them sedatives but these tend to have side effects, like drowsiness, which affect their functions. The elderly, in particular, are at risk of falling.
"We saw an opportunity for a non-pharmaceutical solution. The clinical trial will show us if it is effective and if patients accept it," said Dr Lee, one of the study's investigators.
The hospital will be conducting a trial with 180 patients scheduled for day surgery to study its effects. The team will monitor markers such as blood pressure.
Themed "delivering care beyond hospital walls", Healthcare InnoMatch attracted double the funding this year compared to its inaugural edition, allowing for double the number of winners.
The six winning start-ups and SMEs were selected by a six-member panel of top leaders in the fields of health, tech and innovation.
MOH's Deputy Secretary of Technology, Dr Cheong Wei Yang, said the Ministry is pleased to support Healthcare InnoMatch to spur healthcare innovation. "Our Healthier SG strategy involves every stakeholder in our health ecosystem, and such efforts to foster closer public-private collaboration to co-create new and innovative solutions will help us achieve better health outcomes for all Singaporeans more effectively," he said.
Temasek Foundation's Head of Programmes, Mr Lim Hock Chuan, said he believes the innovations will help push the boundary of possibilities of healthcare, and have a far-reaching impact on healthcare communities, patients and their families.
The various winners said that in laying the ground for medical trials with established institutions, Healthcare InnoMatch is helping them accelerate the development of their med-tech innovations.
By test bedding the products with at least one public healthcare cluster, winners can further customise their products and gain constructive feedback from healthcare providers and patients before it is scaled across the entire system in the event it is successful.
NuCalm's Director of Business Development, Samuel Chan, said: "Healthcare InnoMatch has given us the opportunity and access to Singapore's three public healthcare clusters to better help Singaporeans."
Ms Tan Swee Yen, the Founder and Chief Executive Officer of PreSAGE, an innovation designed to predict falls in old age, said winning the challenge has given her SME a much needed boost. "Healthcare InnoMatch helps us resource wise as we work to improve population health. We can't do it alone. Rather than break down walls ourselves, partnerships and programmes like Healthcare InnoMatch help us help seniors," she said.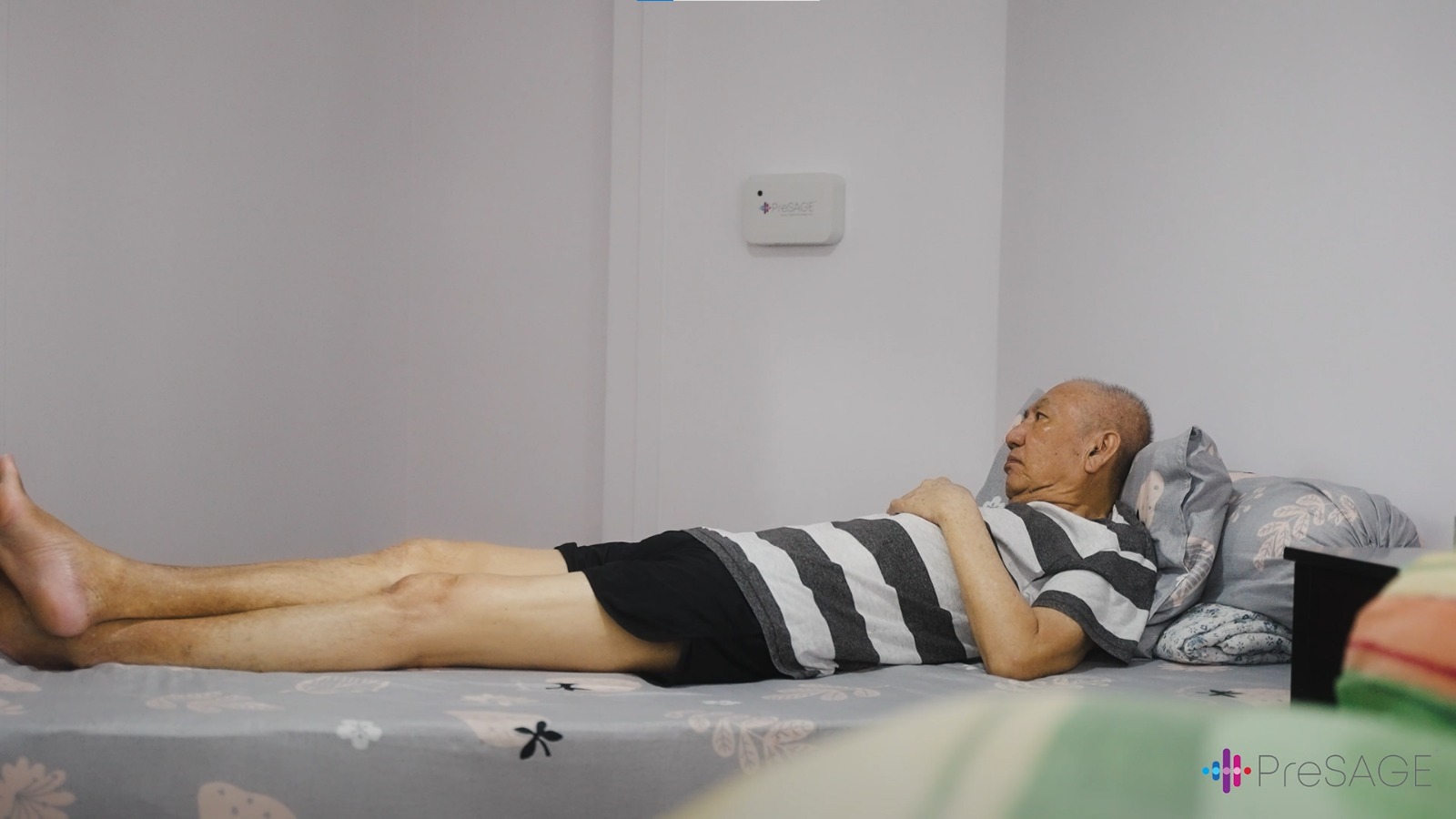 A PreSAGE device installed at home to monitor elderly with risk of falls. (Photo credit: PreSAGE)
PreSAGE's next phase will involve predicting falls at home. A six-month trial with 50 seniors with moderate to high fall risk is in the works with the National Healthcare Group. It will be conducted with the support of Healthcare InnoMatch and will involve PreSAGE validating its AI to understand changes in seniors' behaviour and home-based routines that might lead to a fall. These could include differences such as activities, posture, pace and sleep-wake cycles. The aim is to provide caregivers advance notice to step in and prevent a potential fall, said Ms Tan.
Another winner is FathomX which uses AI to analyse mammograms more expediently than the human eye for the early detection of breast cancer. Its Business Development Director, Galvin Lian, said his team is keen to partner the different healthcare clusters to deploy a scalable, efficient and accurate AI system.
"We hope that Singapore can be the region to use our solution in Asia to showcase to the world," he said.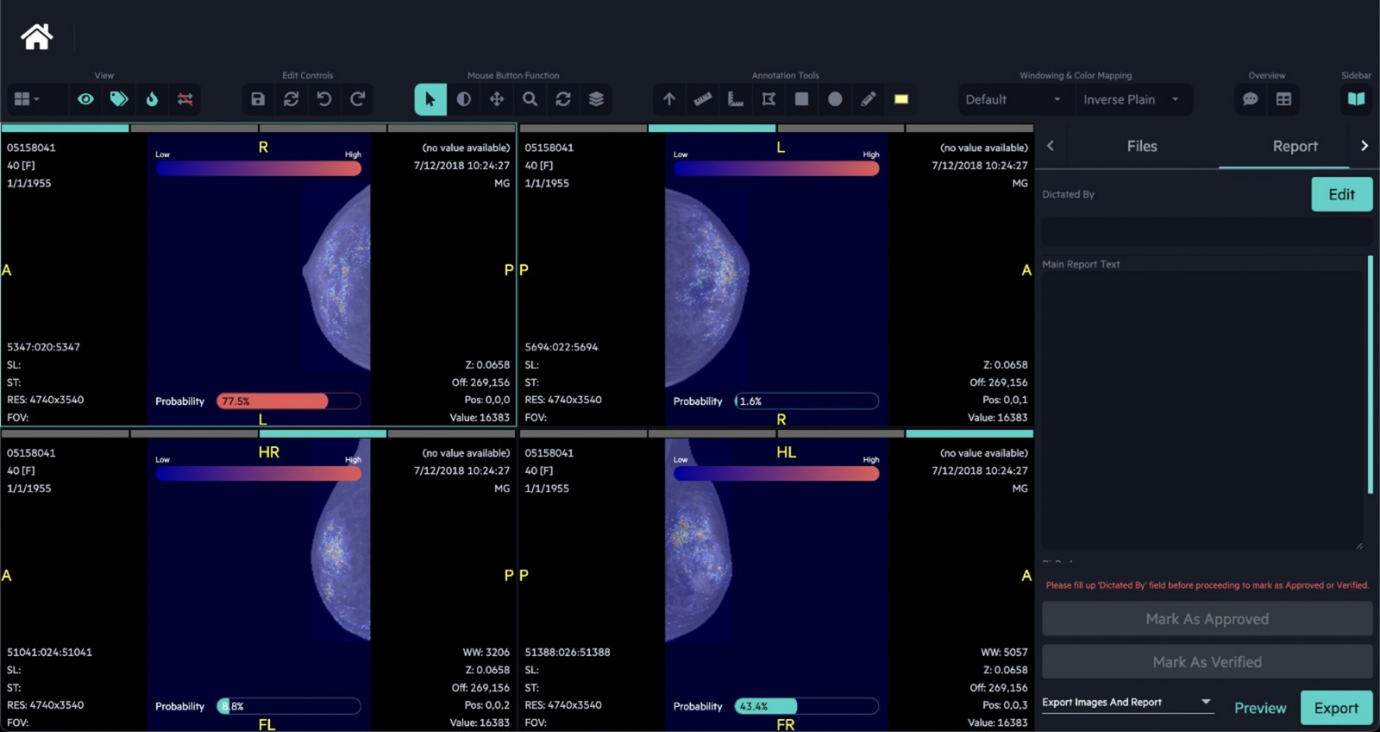 FxMammo is an AI Assistant that improves the screening procedure for mammograms by reducing the false positive/negative rates and enhancing the clinical workflow. (Photo credit: FathomX)
This year's other winners are: Kinexcs which developed a smart wearable sensor device to track the post-surgical recovery process of patients with joint conditions; and Us2.AI which uses AI to acquire and analyse cardiac ultrasound images to diagnose heart failure. Hear from them, as well as other winners, share about their solutions: